1. Name & Complete Address of Institution:
Central India College of Education, Ground Flour Godhani Railway
Godhani, NAGPUR-441111.

2.Name & Complete Address of the Principal:
Dr. Sumedha Sadashiv Thakur (Officiating Principal)Near Devi Ahilya Mandir, Dhantoli, Nagpur.


3.Date of Establishment:
N.C.T.E-05 June -2003

4.No & Date of Registration Order by N.C.T.E
WRC/5-6/2003/4519 Date : 09 July 2004

5.Detail of Course offered with approved Intake
Bachelor of Education with approved 100 Intake


6.Information about the Management Completed
Society is registered from charity commissioner Nagpur Regd. No. Mah/247/2000 &
F - 16547 Date 6-3-2000.


7.Mehmuda Shikshan & Mahila Gramin Vikas Bahuddeshiya Sanstha

(MSMGVBS) Came into existence in the year 2000. A group of seven young Women's join their hands together & initiated voluntary action in Nagpur and step forward with a view to spread its activities throughout Maharashtra State.

MSMGVBS committed to the socio-economic & political development of the rural poor a special focus on SC/ ST/ Minorities Women of Maharashtra.

As on date MSMGVBS covering number of villages of two districts of Maharashtra state for furtherance of its aims and objectives, irrespective of caste, creed, sex & religion as per the need of the area.

With intensive Household & Hold Surveys & personal interviews we placed the educational problems of the rural part before the state authorities of Nagpur district for immediate solution.

8.Other Courses run by society:
1. B.Ed R.T.M Nagpur University ( N.C.T.E Code No.123030) Co-Education

2. B.Ed S.N.D.T Women's University Mumbai (N.C.T.E Code No.123107)

3. D.Ed S.C.E.R.T Pune,Maharashtra (N.C.T.E Code No.122150)Co-Education
9. Management Committee ( Office Bearers)
Sr.
No.
Name of the Member
of Society/ Trust
Designation
Address
1
Mrs. Saba Athar Abubakar
President
Amar Sajjan Tower, Mangalwari Bazar, Nagpur
2
Mrs. Karima Daud Seth
Vice-Presedent
Golcha Marg Sadar Bazar
Nagpur
3
Mrs. Asma Anees Ahmed
Secretary
Aradhana Colony
Nagpur
4
Mrs. Kausar Mohd. Imran
Treasurer
Femina Collection Residency Road Nagpur
5
Mrs. Anjuman Ara Shakeel
Member
R.M.S. Colony
Nagpur
6
Mrs. Firdos Jawed Seth
Member
2, Aradhana Colony Raj Nagar Katol Road Nagpur
7
Mrs. Bilquis Ashfaque
Member
New Colony
Nagpur
Management Committee Register Office Address :-
690- 691 Golcha Marg Sadar Nagpur (MH.)

10. Date of Start of Academic Session :
1st July

11.Fee Structure:
Shikshan Shulk Samitti Approved Fees Rs. 43,500/-

12. Audit Statement of College (3 Years)

| | | |
| --- | --- | --- |
| Audit Statement | Income | Expenditure |
| Session 2003-04 | 36,53,979/- | 15,34,787/- |
| Session 2004-05 | 22,27,211/- | 37,51,768/- |
| Session 2005-06 | 31,91,132/- | 40,77,142/- |
| | | |
Affidavit of the Authorized Representative of the applicant Institution.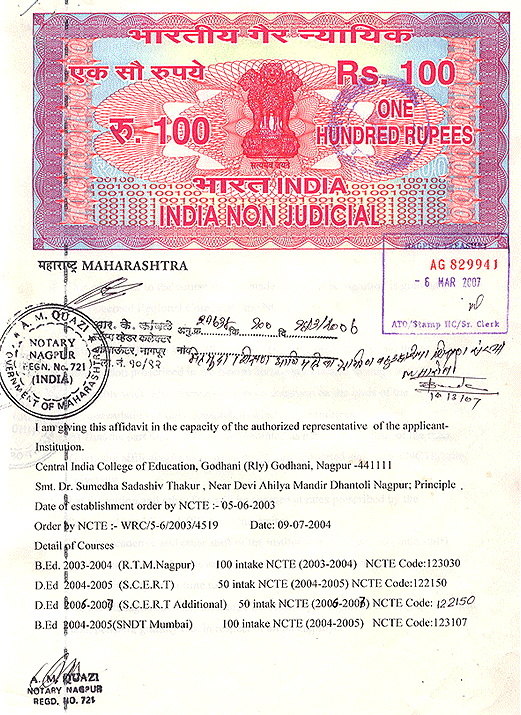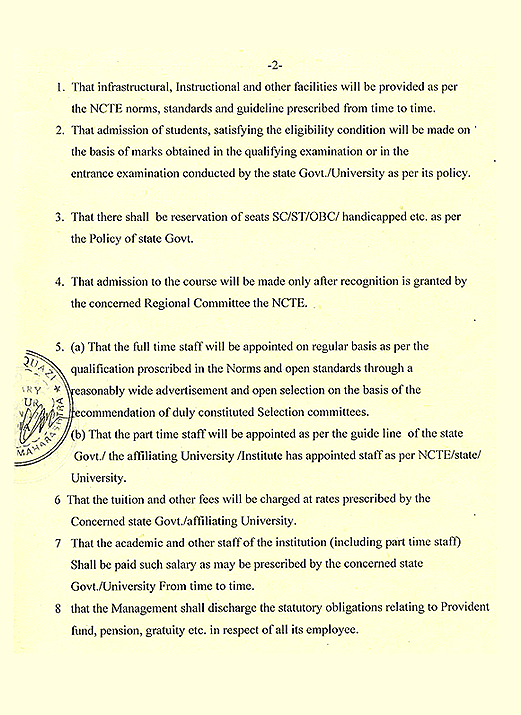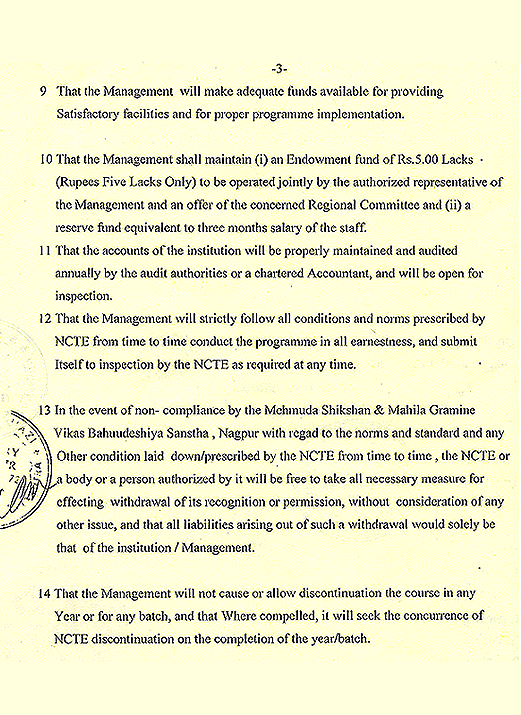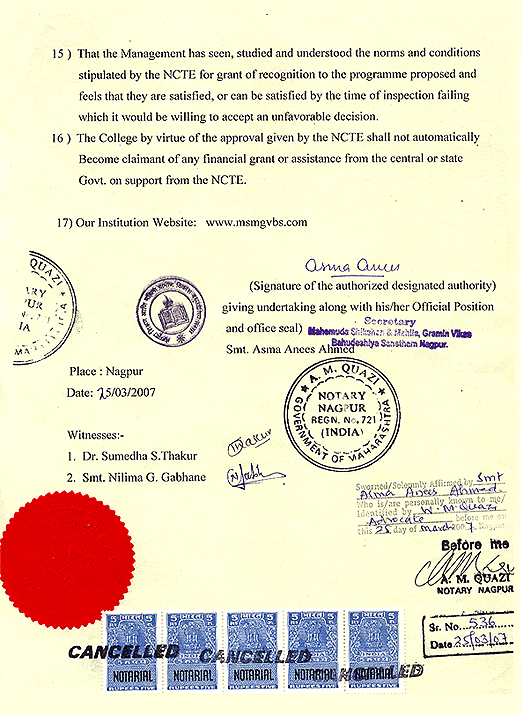 Affidavit of Staff
please click on the particular Name to see the affidavit

Staff profile as per Annexure-1 (Staff approval)
(Please Click on the above Heading to see the Staff Profile)

14.Facilities Available
1) Class Room capacity 100 Intake
2) Four Method Room.
3) Principal Cabin.
4) Staff Room.
5) Management Office.
6) Reception Counter
7) STD Booth.
8) Xerox Machine
9) Water Cooler.
10) Library.
11) Computer Lab.
12) ET Lab.
13) Psychology Lab.
14) Science Lab.
15) Soc. Science Lab.
16) Work Experience Lab .
17) Sports Department.
18) Play Ground.
19) Bus Facility.
20) Girls Hostels.
21) Canteen.

Note : Information of New College will be Shortly Provide.